Florence Knoll: Side Table Reproduction - Square
Base Price: $ 950
Features:
Polished stainless steel base
Choice of 3/4 inch tempered glass or white marble
Dimensions:
Overall Dimensions (in): 24w x 24d x 18h
Weight: pounds
Product Number: MC-7215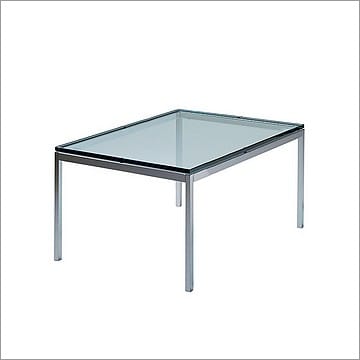 Click to enlarge
Buy Now
Why we are your top choice for Modern Classic Furniture Reproductions:
We make and sell only our own products -- no one else's product, nor will you find our products elsewhere on the web.
We offer a 5 year warranty - call us with your questions:

877-733-1143

We offer FREE SHIPPING on orders over $2,500
We only make accurate reproductions using the finest materials - including your fabric if desired
We offer wholesale and design trade prices- let us be your #1 source - sign up today!
Offering Great Quality at Factory Direct Prices:
We manufacture our products very close to the original design, using the best materials such as full-grain, 100% aniline-dyed leather and high quality hand polished stainless steel. There are several reasons why you should consider purchasing from our line of mid-century modern furniture reproductions: Quality - Price - Trust. Because we run our own furniture factory, we are able to directly supervise the production of each piece of our Modern Classic reproductions. Then, we inspect each piece of furniture here at our warehouse in Washington before we ship it to you. We are not repackaging someone else's furniture and calling it our own; and because we make what we sell, we back all of our products with a five year warranty against defects in material and workmanship. Read more about comparing our products in our modern classics buyer's shopping guide. Buying direct from the manufacturer, also means we can offer great factory direct pricing.
In-Stock - Furniture:
We try to keep the many of the popular pieces and colors in stock or in production for quicker lead times. Visit our In-Stock Products page for the latest list of items in stock. All other products are made to order, so you can specify exactly the colors you want. We have access to virtually any Modern Classic pieces, at exceptional factory direct prices, so be sure to send us an e-mail with your requirements.
Steel Frames:
The frame is the structural beginning of any quality furniture piece. Most of our exposed metal frame designs are constructed of the highest furniture grade stainless steel. We use stainless steel because it offers a lifetime of value to our customers. It will not tarnish and it has an inherent quality of aging to an elegant and classic "soft patina character". Stainless steel may be re-polished many times to restore the metal appearance to its original "new" appearance. Chrome steel plated frames do not offer these unique and superior qualities.