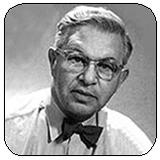 He is the Danish architect who mastered the most personal and successful interpretation of the international functionalism. His architecture includes a considerable number of epoch making buildings in both Denmark, Germany and Great Britain.
Arne Jacobsen initially trained as a mason before studying architecture at the Royal Danish Academy of Arts, Copenhagen, graduating in 1927 From 1927 until 1930, he worked in the architectural office of Paul Holsoe. In 1930, he established his own design office, which he headed until his death in 1971, and worked independently as an architect, interior, furniture, textile and ceramics designer. His best known projects are St. Catherine´s College, Oxford, and the SAS Hotel, Copenhagen.
Arne Jacobsen's designs came into existence as brief sketches and were then modeled in plaster or cardboard in full size. He kept on working until his revolutionary ideas for new furniture had been realized at the utmost perfection. The Royal Hotel, situated in Copenhagen, is one of Arne Jacobsen's masterpieces. For the decoration of the hotel he designed several pieces of furniture, lamps and fabrics, and also cutlery, glasses, and door handles. As significant counterpoints to the stiffly upright, monumental building his easy chair, the "Swan" Chair and the "Egg" Chair, stand out as organic sculptures. Common to all Arne Jacobsen's designs is that they have become international design classics.