Modern vs. Contemporary Furniture
Modern vs. Contemporary Furniture
In most people minds, the words: "modern", "modernism" and "contemporary" are interchangeable, but in reality, they are not really quite the same when applied to furniture, art and fashion, We offer this brief discussion of "Modern" furniture as compared to "Contemporary" furniture, including some historical perspective, merely as on introduction to the subject, to help you understand why we have chosen this furniture niche.
The furniture designs found on this website are from Modernism Movement spanning in time from 1918 to 1970. Most people refer to this subset of furniture as Modern Classics, as they are iconic pieces conceptualized by some of the greatest designers in the history of furniture. We focus tightly on this niche, so that we can concentrate on making and selling the highest quality Modern Classic furniture at affordable prices.
Birth of Modernism:
Modernism was a movement that sprang from the early 20th century (about 1910) as new creative forces began emerging seeking to look forward toward innovation, originality and simplicity in design. There was a desire to eliminate the excessive ornamentation found in Victorian furniture designs and to incorporate new construction technology and materials. The Modernism movement, thus, is loosely defined as breaking with classical forms and continued through the mid 20th century (about 1960). The following chart depicts the evolution of the modern movement.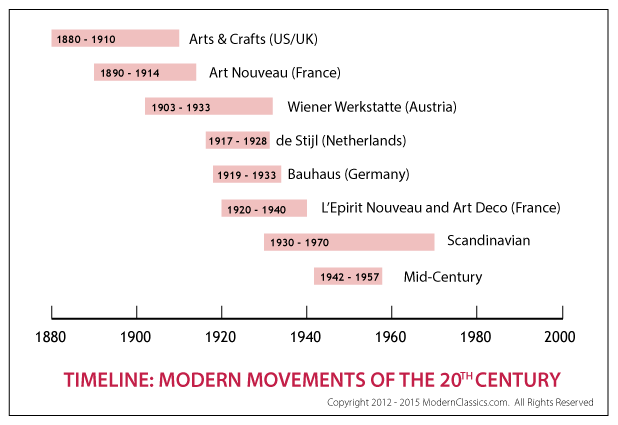 Modern Furniture
After World War I, Europe saw the first conception of the Modernism movement. This War changed people's perceptions about cultural values and traditions. They began to challenge the traditional manufacturing methods and materials, embracing the new. This early Modern Movement could be seen throughout the world, but in particular, Germany, France, Denmark and Italy. Each country had its own history and evolution of the style and designs of Modernism, with varying uses of the materials popular within their respective countries. For example, Denmark used wood, Germany and France favored steel, etc.
By 1930, Modernism had become a recognized and well-accepted design style. Because they were based on industrial production techniques, modern materials (e.g., chrome, steel and glass) and rectilinear geometry, manufacturers producing these simple and practical forms achieved better economies and efficiency in production and materials.
At ModernClassics.com, we focus on making and selling furniture designs from four primary movements of modernism: Bauhuas, Nouveau, Scandinavian and Mid-Century Modern.
Bauhaus Modern Furniture
Featuring the furniture of the Bauhaus Modern period, the beginning of the modern movement, which spans the period between 1917 and 1933. Of particular importance, Germany's Bauhaus School fostered and defined this move toward the modern and gave rise to some of the greatest designers of all time, including Walter Gropius, Mies van der Rohe and Marcel Breuer. Though the Bauhaus school was closed down in 1933, this group of designers promoted the use of the new technologies and social ideals of the day, to defy traditional ideals of decor and created a whole new aesthetic based on form and function. Here are our top selling products from this era:
(view more products)
L'Epirit Nouveau Modern
In 1925 in France, Le Corbusier was promoting his L'Epirit Nouveau modern design style at the Paris Exhibition called the Pavilion de L'Esprit Nouveau. In 1929, at the Salon d'Automne, Le Corbusier, along with Charotte Perriand, Pierre Jeanneret, created sculptured furniture using tubular steel, hide and canvas upholstery and glass. At the time, these designs were so radical they were not immediately successful. Eileen Gray also worked during this period as well. Here are our top selling products from this era:
(view more products)
Scandinavian Modern
Just prior to World War II, the Scandinavian countries (Denmark, Sweden, Norway, Finland and Iceland) were formulating their own sense of modernism, with their innovative designs of uncompromising quality. The Modernist approach in these countries grew out the traditions in each of their respective countries; for example, the Swedes used lighter woods, the Danes deep rich mahogany. The early designs of Scandinavian Modern incorporated their traditional woods, joinery and framework techniques and applied modern lines and tools to create the universally appealing Scandinavian designs. Some of the best known Scandinavian Mid Century furniture designers of the Scandinavian Modern era include Hans Wegner, Arne Jacobsen, Finn Juhl , Poul Kjaerholm and Borge Morgensen; all of whose furniture designs we are working to replicate at the highest quality at affordable prices. Here are our top selling products from this era:
(view more products)
Mid-Century Modern
After World War Two, also saw the birth of another era of Modernism, now known as Mid-Century Modern. Designers throughout the rest of Europe and the United States were inspired by the softer form of Scandinavian Modern furniture and began creating a new breed of Modern Classics. The emphasis during this time was to produce furniture that was contemporary in design, yet durable; well made using the latest technologies; yet affordable. There was a move toward organic forms, pieces that were visually pleasing when viewed from any side, using new plastics and bold colored fabrics that were available for the first time. Some of the best known designers of the Mid-Century Modern era include Charles and Ray Eames, Eero Saarinen, Verner Panton and Isamu Noguchi. Here are our top selling products from this era:
(view more products)
Contemporary Furniture Designs
Furniture design theory involving "modern" did not end after 1970, however, the design world did move to a new Post Modern era. Affordable, high quality, furnishings did not fall out of favor, and designers continue to create new looks and trends using the latest technologies and textiles. This genre of minimalist, trend conscious and refined furniture is regarded as "Contemporary" and can be found in many websites and furniture stores.