Sigurd Ressel
Norwegian interior and industrial designer Sigurd Ressell (also spelled Resell) was particularly active during the 1950s and '60s and is best known for his collaboration with Vatne Møbler, which resulted in the iconic Falcon Chair.

Born in 1920 in Meldal, Norway, Ressell studied carpentry at the Norwegian National Academy of Craft & Art Industry from 1943 until 1947. By the early 1950s, Ressell established his own studio and created designs for various clients and manufacturers, including Niels Vodder. From 1948 to 1968, Ressell created interiors and furniture for Norwegian furniture brand Rastad & Relling. Notable designs include the 56/1 and 61/1 Chairs for the Bambi Series (1955), the Blinken Armchair (1956), and furniture for the expansion of the Norwegian Parliament (1950s).

In 1968, Ressell became the chief designer for Norwegian furniture company Vatne, and his seminal Falcon Chair (1970) soon followed. Originally, the hammock-like chair was produced with a chrome frame, but was redesigned with a lighter laminated base in 1974 for easier distribution. In 1990, Oslo's Vognremissen Gallery honored Ressell with the exhibition Sigurd Ressell—Chairs for 30 Years. Ressell passed away in 2010.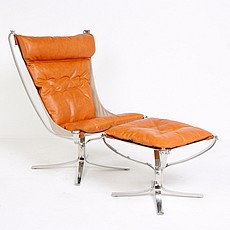 Price:: $1,930.00
Inspired By: Sigurd Ressell Falcon Chair
Dimensions (in): 33w x 31d x 44h; Interior: 24w x 17d; Seat Height: 20h

More Details