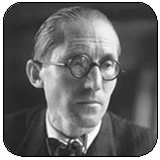 Charles-Edouard Jeanneret-Gris, not unlike many of the designers featured, did not get his start as a furniture designer. He was an acclaimed,
prize winning
watch
smith
in Switzerland. That is until he became Le Corbusier, a central figure in modern architecture and design.
Le Corbusier quickly became known as an Architect who
help
pioneer the "open plan" concept with his innovative use of materials and engineering. Through the 1920's and
30's
Le Corbusier continued to enforce the importance of the incorporation of architecture as a vital part of life and positioned himself as a leader in the architectural design revolution. It was in the transition between these decades that he began designing furniture to compliment his living spaces.
In collaboration with designer Charlotte Perriand and his architect cousin Pierre Jeanneret, he helped create machine age classics such as the LC2 "grand
confort
" armchair, the Basculant Sling chair and the chaise lounge chair. Free from any form of decoration, these tubular steel designs embody relaxed and timeless elegance. They debuted the designs at the 1929 Salon d'Automne exhibition. In a set called "Equipment for the Home", they devised a room to display their furniture designs made almost entirely from glass and metal with concealed lights sliding doors and modular steel units. The furniture designs included all the major pieces popular today: a sling back chair for conversation (the B301); a boxy upholstered chair called the LC2 or "grand comfort" for relaxing; the
siege tournant
rotating seats with and without a back; dining table; office table; and finally, the B306 "Cowboy" chaise lounge for sleeping. These abstract forms used tubular steel frames and hide and/or canvassed upholstery.
The present day designs of this metal furniture collection as offered on our website are inspired by these designs of the late 1920s, which were never manufactured on a production basis in their original form. Some models were introduced by Cassina SPA in the mid-1960s and were made to look similar to the original drawings. We took those same drawings and created our own versions of these popular designs.

Note: The Le Corbusier name, LC2, LC3 and LC6 are registered trademarks of the Le Corbusier Estate and
Cassina, S.P.A.