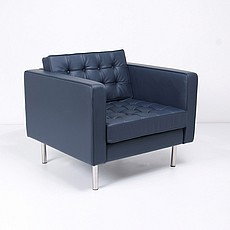 Click to view available Options.
Base Price: $1,720.00
Our newest line of seating pays homage to one of Mies van Der Rohe's earliest projects in the United States, even before he becomes an American Citizen.

In 1937, Mies van der Rohe came to the United States for the first time to design a summer house in Jackson Hole, Wyoming for Helen Resor (Museum of Modern Art trustee) and her husband. The house was to be built over a man-made stream flowing from the Snake River. Floor-to-ceiling glazing were to enclose both sides of the main room. Similar glazing was previously used by van der Rohe in Europe in both the Tugendhat House in Czechoslovakia and the German Pavilion for the International Exposition in Barcelona in 1928.

Van der Rohe"s design of the house went hand in hand with his choice of materials: unpainted reddish black cypress boards for the exterior cladding as well as the interior walls, ceilings, and doors of the upper floor and service wing; and a pinkish native fieldstone for the walls on the ground level, the fireplace wall, and the central stairway. Van der Rohe also made an interior architecture out of the placement of furniture and the positioning of murals and freestanding painting.

The Resor House was never built; only the foundation remains to this day in a dried up river bed.

We have designed our Resorhaus Chair, Loveseat and Sofa to be a compliment to the other seating we make that are inspired by the Barcelona style furniture. Featuring a high back, deep seats, tufted seat and back cushions that run the entire width and stainless steel tubular legs.
Date: 11/26/2023 10:03:15 PM